Dog Hairdresser
Grooming is not only meant for pure breed exhibition champions. The right care will boost the charm, elegance and well-being of every pet. Over the convenience and satisfaction of the owner comes great health and comfort for the animal itself.
"Blue Dog" is a grooming studio for animals. It specializes in dogs, cats, guinea pigs, rabbits and horses.
Customer is the most important guest – meaning the animal!
Welcome to our Dog Salon. Best Dog Hairdresser in Copenhagen! Animal comfort, safety and health is the most important in everything I do. I aim to have enough time for each session to reduce stress and to be the most effective. I give my clients patience and sympathy and assure special care for puppies and older dogs.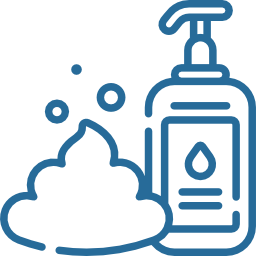 PROFESSIONAL EQUIPMENT AND CARE PRODUCTS
I offer the most modern grooming equipment, paying utmost attention to hygiene and safety of the tools. Everything gets sterilized by the highest class products used in veterinarian clinics.
My care products are organic and hypoallergenic which provides long lasting effects.

I am a qualified groomer and I stay up to date with animal care and haircut trends. This job is a fulfillment of a lifelong passion – I have always been surrounded by animals, working with them gives me a great pleasure.
Animal comfort, safety and health is the most important in everything I do.

Dog care
Long-haired dogs are beautiful, but only when they are well taken care of. They demand everyday care, otherwise the matts not only look ugly, but cause discomfort or even pain.
Cat care
Regular bathing helps to keep your pet's skin and fur healthy and clean. It also helps to get rid of dead hair. Before the treatment cat should be thoroughly brushed. In my studio, I use only cosmetics from reputable brands developed for animals.

Rabbit care
Rabbits are naturally very clean animals. They carefully maintain their fur, but even then they sometimes need help. From time to time, the owner should raise her bunny and look carefully at its tummy and the area around anus.

Guinea pigs care
Guinea pigs need a similar care to dogs and cats, especially if they are long-haired. They have to be cut and brushed, so that they are clean and tidy, and they also need their nails to be cut regularly. If we want to maintain the length, just cut the hair so that they do not touch the ground.
Check our price list and make an appointment.